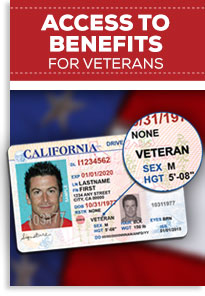 ATTENTION VETERANS:
Veterans are eligible for a wide range of benefits.
However, it can be difficult to verify their service in order to acquire those benefits. In fact, not having proof of military service is one of the biggest obstacles veterans face gaining access to resources, benefits, and services. As such, a new law that I had the privilege of supporting is fixing this problem by adding the word "veteran" to California identification cards.
As of November 12, veterans can easily prove their eligibility to receive state and federal veterans benefits by presenting their specially designated driver's license or ID card.  This proof of service will help our veterans receive a wide range of benefits, resources, and services.
Applying for the veteran driver's license and ID is easy:
Simply find your military discharge certificate (DD214). If you need help obtaining your military records, then contact your local County Veteran Service Officer (CVSO).
Stop by your local CVSO with your DD214 for verification.
Go to www.dmv.ca.gov , or call the DMV at 1-800-777-0133, to make an appointment. Bring your verified application form, and the small $5 application fee.
You must complete all applicable requirements. The application form certifies the veteran applying for the veteran ID card is from the active armed forces, and was discharged under honorable circumstances.
Your Local CVSO:
Stanislaus County Veterans Service Office
121 Downey Ave, Ste. 102
Modesto, CA, 95354  
Hours: M-F 8am - 4:30pm
Main: (209) 558-7380
Fax: (209) 558-8648
Merced County Veterans Service Office
3376 N Hwy 59, Ste. D
Hours: M-F 8am - 5pm
Merced, CA, 95348  
Main: (209) 385-7588
Fax: (209) 725-3848